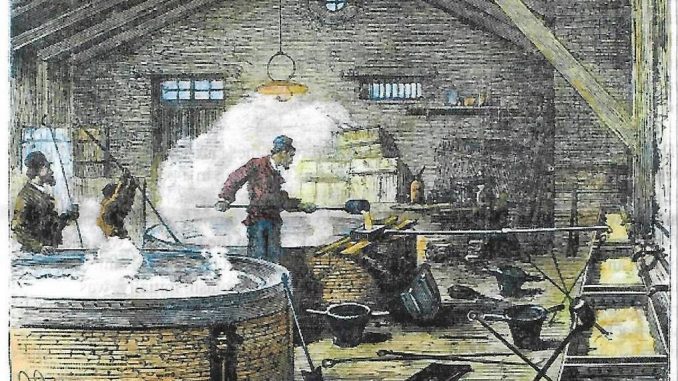 Several years ago, I discovered the joys of making and using mystic soap. Using candles in spiritual rituals and using soap are basically the same, except that using soap is more personal and intimate, and the effects will go with you when you leave your home. Unlike incense, prayer bags, amulets, and so on, mystic soap is not visible to other people. And perhaps best of all, it couldn't be much easier!
I make my own mystic soap the "lazy way."If you want to make soap from scratch, I recommend that you seek instructions online or purchase a book on soap making.
What you'll need:
Your favorite unscented soap. You could also save leftover scraps of soap until you have enough to form at least two new bars.
Powdered herbs or essential oils that have the mystical characteristics you want to add to your soap.
A cheese grater.
A double boiler (or two saucepans set up like a double boiler).
Soap molds. Molds are available at craft stores, or you could use a muffin tin if you don't mind round soaps.
Oil to grease the molds.
Newspaper.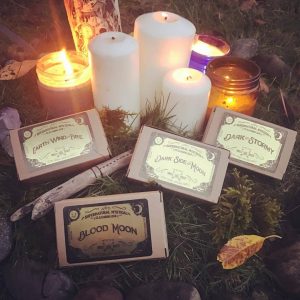 What to Do:
Grease your molds with oil and set them aside on a piece of newspaper.
Add water to the bottom pan of the double boiler and heat.
Grate soap into the top pan of the double boiler.
Stir the soap chips until they're melted.
Add the essential oils or herbs. While stirring the soap mixture, focus your thoughts on the end results you're seeking; think about what you want the magic to accomplish.
Pour the melted soap mixture into the prepared molds and let them stand until cooled and hardened.
Remove soap from molds and use as desired!
Some of My Favorite Soap Recipes
Energizing coffee soap: Add about 1/3 cup of fresh finely ground coffee beans to your melted soap for an invigorating energy soap. It will help keep your batteries charged, it smells wonderful, and it will exfoliate your skin to keep it healthy and glowing.
Love-attracting rose and yarrow soap: Add rose and yarrow oil to your melted soap. While you stir, meditate on the love you wish to attract. Sometimes I like to grind up dried rose and yarrow petals instead of using the essential oils. This will add bits of texture and color to the soap.
Wealth-attracting jasmine soap: Add either jasmine oil or ground jasmine petals to your melted soap. You can also use both if you'd like to. This soap is effective at attracting wealth.
Mystical Powers of Flowers and Herbs
Basil removes negativity from your workplace or home.
Bay laurel protects against evil influences and ends interference.
Bergamot eases worries and builds confidence.
Catnip attracts courage, joy, happiness, and love.
Chamomile brings luck in gambling and luck in attracting a marriage proposal.
Clove attracts friendship, banishes evil, grants desires.
Dandelion purifies and helps improve clairvoyance.
Dragon's blood (a resin from a tropical tree) protects and attracts wealth, love, and good luck.
Frankincense spiritually protects and purifies.
Ginger brings love, success, power, and money.
Jasmine strengthens psychic abilities and attracts love and wealth.
Juniper aids in psychic development, attracts love, and protects against theft.
Lavender attracts help, love, and wealth.
Lemon verbena repels those you don't love and guards against evil.
Marigold gives clairvoyant dreams.
Marjoram protects.
Mugwort aids in divination, strengthens psychic abilities, and protects.
Myrrh spiritually purifies and protects.
Nutmeg brings love, luck, love, fertility, and prosperity.
Orris root attracts love and aids in divination.
Patchouli defeats enemies, attracts wealth, breaks spells placed on you.
Peppermint increases psychic ability, purifies, attracts love.
Pine purifies.
Rose petals attract love, happiness in the home.
Rosemary heals headaches, keeps a lover faithful.
Rue repels negativity, defends against dark magic and spells.
Sage purifies and protects.
St. John's Wort heals, protects, attracts happiness and love, increases courage and divination.
Sandalwood (red) heals, spiritually protects, makes wishes come true.
Sandalwood (yellow) spiritually protects.
Thyme cures nightmares.
Vervain attracts love and wealth, repels psychic attacks, purifies.
Wormwood repels negative magic.
Yarrow keeps married couples happy.
Ylang ylang attracts happiness.